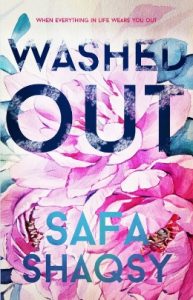 Safa Shaqsy's Washed Out is a tragic and witty teen novel that will appeal to fans of books by Julie Buxbau's novel Tell Me Three Things and Nicola Yoon's novel Everything Everything.
If you had two choices of love? who will you hurt?
Celia Williams, eighteen, is a cool, bubbly student, popular and outgoing. Her mother suffers from dementia, and Celia is mentally bruised by her mother's unexpected aggressive behavior due to the illness.Everyone else has long accepted her mother's illness. However, Celia's dream is that her mother might one day recover her memories and come back to her old self. Her caring focus leaves no room for depression to overwhelm her, even though she has siblings that she must take care of. Determined to keep her life normal, Celia Williams lives her life normally, socializes with her friends, and tries to keep her boyfriend happy. She also strives to achieve excellence in her scholastic life. But just as Celia succeeds with one of her plans as a perfect girl something unexpected happens, and suddenly her world shatters. Then she meets Ned, the nerdy guy with weird friends, who treats her like a queen. Celia falls for Ned, and he accepts her as she is, but there is still the matter of Celia's mother, and there is always a choice to be made of how to care for her, and it takes everything she has to keep the balance between love and duty.